October 20, 2022
AICHELIN Service awarded by VDI
For its more than 65 years of membership, AICHELIN Service was honored in October by the Association of German Engineers (VDI) through its regional organization VDI Württembergischer Ingenieurverein e.V.. With our sponsoring membership as a company, we support the VDI's community work at the federal and state level.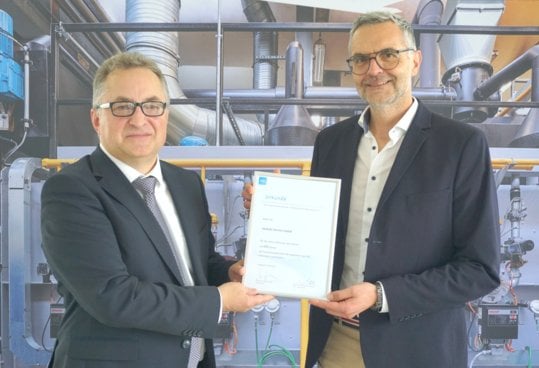 During his visit to Ludwigsburg, Johann Konradt, advisor for advanced training at the VDI in Stuttgart, presented the certificate for the award to Thomas Peinkofer, Managing Director of AICHELIN Service GmbH.
On this occasion, Mr. Konradt informed, among other things, about the added value that the VDI can offer member companies. This includes
Specific working groups - e.g. the Technical Sales Working Group
Training/advanced training offers for employees
In-house workshops led by the VDI at companies on topics such as "Securing the Future" and
The new cross-industry program "Attractive Employer" with more than 5,000 companies in the DACH region.
AICHELIN Service will continue to support the work of the VDI as a sustaining member and will also be actively involved in the association's work within the scope of our interests and possibilities.
Further information about the VDI: