August 3, 2023
Electric glow plug saves energy + CO2
A constant hot topic at our customers is the increase in energy efficiency at their heat treatment plants while maintaining a high level of productivity and production safety. AICHELIN has developed a solution that can be integrated easily and perfectly into existing heat treatment systems.

The challenge:
For safe furnace operation, excess process gases must be flared in a controlled manner.

The energy consumption for this is high because the pilot burners required for safe operation are supplied with natural gas.

Each pilot burner produces about 6 – 8 tons of CO2/year, and often 2 of them are installed per system.

The infrastructure around the ignition source (valves, electric control) is also maintenance-intensive and thus cost-intensive.
The solution and its added value: Our new electric glow plug – an innovation 'made by AICHELIN'.
This enables multiple savings:
Electrically ignited flaring saves energy and, especially when using green electricity, more than 75% CO2.

The electric glow plug causes significantly less maintenance effort and costs.

Plant safety and availability remain high.

The production interruption caused by the retrofit is low – the plants can be handed over warm for the retrofit.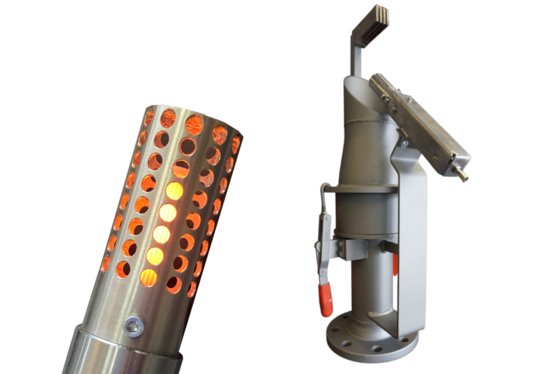 With AICHELIN's electric glow plug you get an energy efficient, safe solution that is perfectly integrated into your system.
Get all information about the electric glow plug at a glance:
Energy-efficient Flare of Process Gasses (PDF | 880.19 KB | eng-US )
For more information on our range of services, please visit our Services section.

Contact us!
We will be pleased to advise you on this and make you a non-binding offer.