March 8, 2023
AICHELIN Service donates 2,500 euros to aufwind e.V. in Ludwigsburg
Heat treatment is our passion. That is why we are also very happy to donate human warmth. Children and families who have a hard time in life are close to our hearts – especially in our home region.
This year, our donation goes to the association 'aufwind e.V. Bunter Kreis Ludwigsburg'. This association supports premature babies as well as seriously and chronically ill children and adolescents and their families and provides comprehensive assistance. Already during and especially after their stay in hospital, an interdisciplinary team actively offers them professional support and advice.
We are very pleased that we can contribute to this valuable work with our donation! Through the sale of no longer needed IT equipment and smartphones among the staff members and an additional amount from the management, € 2,500 were collected.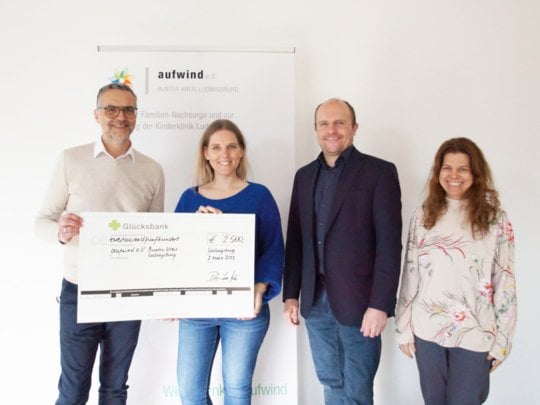 Our donation was handed over personally by Thomas Peinkofer, Managing Director of AICHELIN Service GmbH, and Maria Morfidou (Executive Assistant) on March 2 during a visit to the Ludwigsburg Clinic.
Markus Stammberger, patron of 'aufwind e.V.' as well as Amelie Hallmann, as a health and pediatric nurse part of the aufwind team, were very happy about the support and gave us insights into their work on this occasion.
We would like to thank the entire 'aufwind' team for their great commitment!